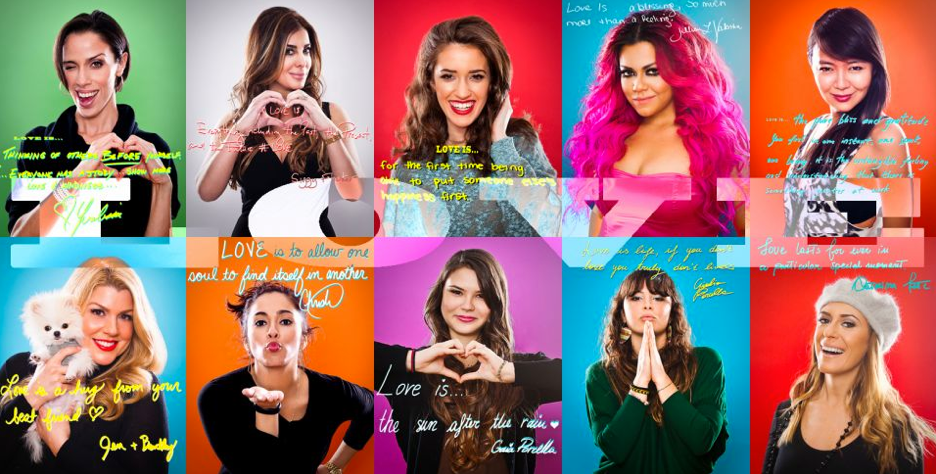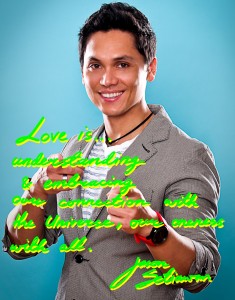 "Share more love" is the name of a creative project launched by fashion photographer Jason Setiawan. Of Indonesian origin, born in the island of Java, he was influenced from the early years of his life by the art and the magnificent nature of his country. Moving to New York as a teenager, right here in the Big Apple, his love for beauty and creativity was refined further still. Following his studies, a period of work in the finance world led him to understand that his future did not lie in a Wall Street skyscraper, but rather in a photo studio, capturing beauty. Setiawan currently works with models from all over the world and his photos are published internationally, from the US to Asia and from Central to South America. His images depict a near-perfect beauty, as if perfection could somehow be reached, and his refined taste can be detected both in composition and in the choice of light and color. Setiawan personally works in the post-production of the photos he shoots and his infallible editorial skills make him an even more complete artist.
Within a world as glittery as that of fashion, you would not expect to find such a deep purity: Jason never stops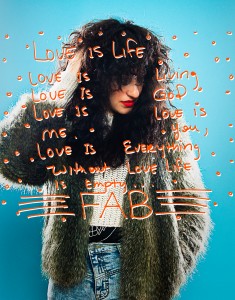 talking about love and he does it with both lightness and depth, apparently very distant from the sophisticated glamor of New York. I met him in New York a few days before the launch of his new creative project and over coffee, we discussed love, spirituality, and simplicity.
What is "ShareMoreLove"?
"It all started with a simple conversation with a friend. The idea was to do something that was also linked to a social cause. I like the idea of relating to a purpose, but many causes have focused on how much negativity there is in the world – the most popular causes have to do with the fight against something rather than the glorification of something good. Love for me is pure positivity. Everyone could benefit from having more love in the world. I worked in finance for seven years and then I decided to start doing what I loved most: photography. I knew this was my path and becoming a photographer has made me fully satisfied. I enjoy every moment of my career and I learn a lot from my everyday life.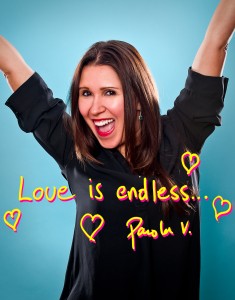 The "ShareMoreLove" project was born from the need to share my love with the world. My Fiancé, Paola Velasquez, who is also a partner in the project, and I deeply love our lives and all the things we see through our eyes. We would like to share this love with others so that others can also see their world as beautiful as we see ours. The goal is simple and majestic: to create a world full of love. Imagine if everyone loved their lives profoundly, how beautiful would the world be?!"
A powerful message behind a simple execution: a collection of photos where people pose with a smile and issue a sentence depicting their personal concept of love. Originally the project was designed as a book depicting celebrities and their phrases about love (the campaign already includes Siggy Flicker, a famous TV personality in the United States), however Setiawan felt that the message was too vast to be limited to an elite group of people.
"The project, which began as a simple blog, will grow into a platform where everyone can share his/her love with the world. It should not be a book, it should not be a message from famous people. Everyone knows what love is and everyone needs it."
So, please tell me, how can we love our lives more?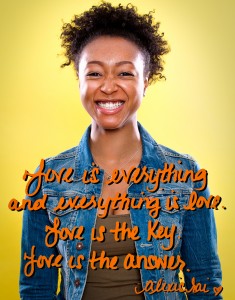 "We always have a choice in life. We have the complete control to choose the life we want. Living a life full of love would most certainly give us love in return. I cannot tell you what will make you happy: I can only guide you to be honest and true with yourself, love what you do and listen to that love. The more love we give, the more love we receive. It is a law of nature."
To coincide with the sad news arriving from Venezuela and the tremendous socio-political turmoil that the country is experiencing, you created a series of images of Venezuelans who,  with the colors of the national flag in the background, delivered a message of peace and love to the rest of the country.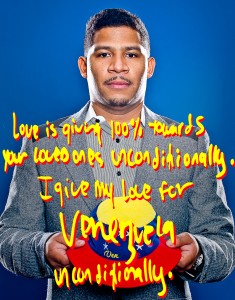 "Yes, to Venezuela and to any other part of the world that is going through difficult times, we would like to send a simple message of love in the hope that public opinion and attention will move towards a more positive and loving way to solve problems. Rather than focusing on how to stop a war, we would like to concentrate on creating peace. Instead of focusing on how to protest the economic collapse, why don't we focus on the promotion of a better economy? Instead of focusing on the differing opinions amongst people, why don't we focus on finding the harmony that unifies us all?
The project started in December – a few months later, I asked Jason what he had learned from this experiment of love. The one million dollar question.
"Believe me, the lesson is more precious than that. I'm learning to respond to criticism and questioning with love, and to surround myself with it in every situation. I am learning that there are always two sides of every story and that I will always choose love. I'm learning to not be afraid, because if I do anything in the name of love, the universe will help me achieve my goals. Instead of criticizing different points of view, I'm learning to share and to note that at the end we all want one thing: to live a life full of love. There are a lot of other things that I'm learning and these are just a few. I feel blessed and thankful."
For those in New York City, Jason Setiawan launches weekly calls on the project's Facebook page so that everyone can be photographed. If you're interested to learn more, please check these links:
http://sharemorelove.org/
https://www.facebook.com/sharingmorelove
---
---