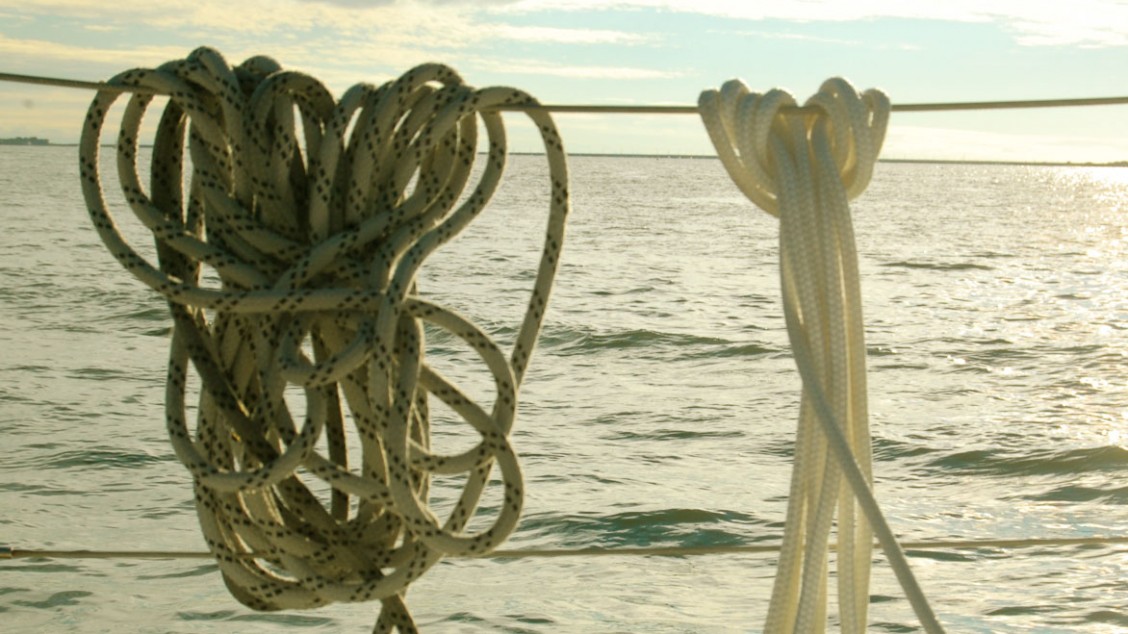 My third time in hobie cat was during a race and yet it was an adventure. At the beginning of the week I had just learned some elementary concepts which I am still confused with. Skippers and sailors might go pale, because if I don't know them how could I do a race? …Whatever.
Being simplicist I think there are 2 main kind of people. Cautious and reckless, or people who like comforts and people who like risk. I personally grow up in a family where watching a good movie, reading a book or taking the sun in the garden is always better than being outside with the adversities of the world. But somehow, anyway, I have always dreamed adventures, I've taken loads of risks and traveled alone very, very far. One of my biggest love has always been the sea. I surfed it sometimes, but never really sail it because I was living away from it for the last 14 years of my life.
Let's go back at the beginning of the week. A dear friend of mine, Gianfranco Gessa, who is also a deathless champion and I guess a legend in his field, asked me if I wanted to learn how to sail a catamaran with one of his friends. I said: YES! Where and what time? I didn't even ask who I was gonna learn with, because for me the joy to sail was bigger than my worries. I know, pretty risking.
The day after I was feeling blissful and happy while the wind was blowing straight on my face and  I felt for the first time the adrenaline of the trapezium on the catamaran. It is like falling in love. You forget about bad things and cannot help but just enjoying that amazing moment. Raimondo Loi, was my "teacher". I realized from the very beginning he knew well how to sail, but I discovered later that he is one of those reckless people always afraid of nothing. You know, illy-nilly, we always find people like us…
The day after I wanted to feel again that adrenaline but I knew nothing about tension the sail, ease the mainsheet, mast, jib, boom… I just follow the instructions and translate those words in my own language. I did it ok, but seriously, it was an overflow of information for a ignorant beginner as I am. And still, I am tremendously confused about everything. I just understand and deeply feel the happiness of sailing.
Two days after I was supposed to leave the city but when Raimondo invited me to a hobie cat race/training I forgot about my plans and I couldn't say no. Here we go.
The first round was pretty bad, I completely forgot all the words I learned 2 days before and it was quite frustrating. The second round was amazing! We were doing well, I was following all the instructions, feeling alive, we were absolutely running with the sea. The photography in front of us became suddenly spectacular. We could see far away, closed to the shore and above the city, huge clouds coming and thunders hitting. One minute after that moment we saw the boat jury indicating that the race was over and we would have gone back to shore. We did it. We were I think 4 or 5 catamarans going on the same direction. Then the wind started to blow very strong and the storm started. All the maneuvers became difficult. I was very scared, not just because of the weather, but also because I didn't know anything about winds and nothing at all about emergency stuff. I started to look Raimondo's eyes every minute searching for help and any kind of support. He was pretty clever: he said that the sea was not so dangerous and he had lived much worst adventures. I was in silence while my jaw became so tense that I felt a tremendous pain to my teeth. After a while my energy was probably very hard to deal with. He screamed: ok, stop to be so worried or I will not concentrate! I answered: I am not scared, I trust you!
But in reality I was literally freaking out. We could see now just another catamaran not far with 2 young guys in it. Both of us were stuck in the middle of the sea, looking for solutions.
I learned another new word that day: capsize. It happened very quickly and it was when I realized that I would have known a lot more about the emergency measures. Thinking to swim from one side of the boat to the other one I was being swept away by the sea. That was the only moment I saw Raymond scared. He shouted as crazy: NEVER GET AWAY FROM THE BOAT! NEVER! From that moment on I just tried to stay closed to him. In the meantime the other catamaran with the young guys capsized intentionally to remain closed to us. Raimondo asked me to help him flip the catamaran in the right position by pulling the right rope. I tried to use all my strength but the wind was too strong that once the boat was up it was automatically catapulted on the other side again. It seemed that the catamaran was jumping over the water and we were down there watching it. Scary. After 3 times with no result the young guys on the other boat screamed to just leave the mast under the water avoiding to attract thunders. Raimondo wanted to sail more but I prayed him to please let me stay there, closed to the other guys. I remember I finally said: "Raimondo, I am bloody afraid. Don't leave me alone, ok? … Do you know what time is gonna be the sunset? He just answered: it's already 6:30.
I finally squatted on the hull with the water around me, protecting myself from the strong rain beating down my face. At that point I thought that we could have died and no one really knew I was there. I was strangely worried also because I left the keys of my car to someone in the windsurf club I didn't really know and he would probably have left. Silly, why being worried about it??It seemed to me a very long time before I heard someone screaming. Raimondo was standing closed to me. I got up too. The guys were screaming because the boat of the jury was coming to rescue us and as it was impossible to see around we just needed to make noise. I screamed too.
I have loved those guys. One of them, Fulvio fiorelli, smiled at us and said: did you seriously think we could have left you here? I answered: "Thank you! I was already imagining my death here in the night and with the sharks." "No worries, we don't have sharks and you wouldn't have survive 'til the night!"- Kidding in a comforting way. They asked Raimondo if it was fine for him to anchor the boat and go back to the dry land. He hesitated for a moment when Fiorelli said: "Raimondo c'mon! Life is more important than a boat!!!"
We finally all came back together to the shore.
Maybe the sea was not so bad, maybe it was, but for a beginner like me this was a very intense experience.
I had a hot shower once we got back to the windsurf club and as I finished Raimondo was not there anymore. He called me back 2 hours later saying that he went back to the sea to recover the boat.
As I said, there are cautious and reckless people. Raimondo belongs to the second category.
Today my legs are full of bruised and my muscles are sore. I forgot the fear.
You might think I am crazy and irresponsible but if I follow my soul, all I want is to learn more about sailing, being less confused with that awful language but first of all, soon again, live that amazing-magic-moment when it's just me, the wind and the sea.
ITALIAN VERSION
Rischiando la vita in mare
La mia terza esperienza in hobie cat è stata durante una regata ed è stata anche una grande "avventura".
All'inizio della settimana avevo imparato solo alcuni concetti elementari con i quali mi sento ancora molto confusa. Skipper e marinai potrebbero impallidire perché se non conosco questi concetti come è possibile che io possa fare una regata?Ad ogni modo…
Essendo semplicisti direi che esistono 2 tipi principali di persone. I cauti e gli spericolati, o persone che amano i comfort e persone che amano il rischio.
Io personalmente sono cresciuta in una famiglia in cui vedere un buon film, leggere un libro o prendere il sole in giardino è sempre meglio che stare fuori di fronte alle avversità del mondo. Ma in qualche modo, stranamente, ho sempre sognato le grandi avventure, ho vissuto parecchi rischi e viaggiato da sola in posti molto, molto lontani. Uno dei miei più grandi amori è sempre stato il mare. A volte l'ho surfato, ma mai navigato seriamente anche perché durante gli ultimi 14 anni della mia vita vivevo lontana da esso.
Bene, torniamo all'inizio della settimana. Un caro amico, Franco Gessa, che è anche un campione immortale e credo una leggenda nella storia della vela cagliaritana, mi ha chiesto se mi sarebbe piaciuto imparare un po di più sulla vela con uno dei suoi amici. La mia risposta? Certo! Dove e a che ora? Non ho nemmeno chiesto chi sarebbe stato esattamente questo amico, perché la gioia di navigare era più grande di quanto potessero essere invece le mie preoccupazioni. Lo so, piuttosto rischioso.
Il giorno dopo mi sentivo felice e beata mentre il vento soffiava dritto sulla mia faccia e quando per la prima volta ho sentito l' adrenalina del trapezio sul catamarano mi sono dimenticata dei problemi del mondo. É come innamorarsi. Ci si dimentica di tutte le cose cattive e non si può fare a meno di godersi quell'incredibile presente. Raimondo Loi era il mio "maestro". Mi son resa conto fin dall'inizio che conosceva molto bene la sua materia, ma ho scoperto solo dopo che è una di quelle persone spericolate con la paura di poco o di niente.
Insomma, volenti o nolenti, sempre troviamo persone simili a noi …
Il giorno dopo avevo una voglia pazza di vivere ancora una volta quell'adrenalina, ma ahimè, non sapevo nulla di cazzare la randa, lascare, albero, fiocco, boma, ponente, deriva e bla bla bla … Me la son cavata seguendo le istruzioni e traducendo quelle parole nella mia "lingua". Per esser stata la mia seconda volta me la sono cavata bene, ma sul serio, tutto ciò era un immenso flusso di informazioni difficile da ordinare per una inesperta come me. Ancora sono tremendamente confusa sul tutto.
L'unica cosa che capisco e sento profondamente è la felicità dell'andare con il vento.
Due giorni dopo avrei dovuto lasciare la città, ma quando Raimondo mi ha invitato ad una regata/esercitazione sull'hobie cat ho completamente scordato i miei piani e non ho potuto dire di no. Ok, durante il primo turno sono sono andata abbastanza male, ho completamente dimenticato tutte le parole imparate 2 giorni prima ed è stato abbastanza frustrante. Il secondo turno è stato invece magnifico! Stavamo andando benissimo, io seguivo tutte le istruzioni, mi sentivo viva, correvamo in perfetta sincronia con vento e mare. La fotografia di fronte a noi è diventata improvvisamente spettacolare. Si vedevano da lontano, in prossimità della costa e al di sopra della città, enormi nubi grigie e lampi scintillare. Un minuto dopo quell'istante abbiamo seminato la barca giuria e ci siam resi conto che indicavano di tornare a terra perché la gara era finita e il mal tempo incalzava. Così abbiamo fatto. Eravamo credo 4 o 5 catamarani che andavano nella stessa direzione. Poi il vento ha iniziato a soffiare veramente molto forte e tutte le manovre sono diventate difficili. Io ero spaventatissima, non solo a causa del tempo, ma anche perché non sapevo nulla di venti e niente affatto di misure d'emergenza. Ho iniziato a guardare Raimondo negli occhi ogni minuto alla ricerca disperata di aiuto o di qualsiasi tipo di conforto. Lui è stato abbastanza intelligente: ha detto che il mare non era in fondo così pericoloso e aveva vissuto avventure ben peggiori. Sono rimasta in silenzio mentre la mia mandibola diventava così tesa che sentivo un dolore tremendo sino ai denti. Dopo un pò l'energia del mio morale è diventata probabilmente molto difficile da sopportare. Per questo Raimondo ha gridato: finiscila di essere così preoccupata o non riuscirò a concentrarmi!! Ho risposto tremante: ok, non ho paura, mi fido di te.
Ma in realtà stavo in una tensione totale. Potevo vedere a questo punto, confuso tra la nebbia e la pioggia, solo un altro catamarano non lontano da noi con 2 ragazzi molto giovani a bordo. Entrambi eravamo bloccati in mezzo al mare alla ricerca di soluzioni.
Ho imparato un'altra parola nuova quel giorno: scuffiare. É successo molto rapidamente ed a quel punto ho capito sul serio che avrei dovuto sapere molto di più sulle misure di sicurezza in mare. Pensando di essere una grande nuotatrice sono andata da una parte all'altra della barca ma in un attimo il mare mi stava spazzando via. Quello è stato l' unico momento in cui Raimondo mi è sembrato veramente spaventato. Ha gridato come un pazzo: MAI allontanarsi dalla barca! MAI!!!!! Mi è venuto a prendere con una cima e da quel momento in poi ho solo cercato di rimanere vicina a lui. Nel frattempo i ragazzi dell' altro catamarano avevano scuffiato intenzionalmente vedendo l'impossibilità di navigare rimanendo vicino a noi. Raimondo mi chiedeva di aiutarlo a ricapovolgere il catamarano in posizione dritta tirando l'apposita cima. Non lo avevo mai fatto e mi pareva un'impresa impossibile. Ho cercato di usare tutta la mia forza, ma il vento era troppo forte che una volta che la barca si rimetteva in piedi veniva catapultata automaticamente dalla parte opposta. Pareva che il catamarano saltasse da una parte all'altra sull'acqua e noi stavamo là sotto a guardare. Spaventoso. Dopo averci provato 3 volte senza alcun risultato i ragazzi dall'altra barca hanno gridato di lasciare l'albero della vela sotto l'acqua così avremmo evitato di attirare i lampi. Raimondo voleva continuare a navigare, ma a quel punto l'ho pregato di farmi restare lì, ferma, non lontana dagli altri. Dopo un pò ricordo di avergli chiesto: "Raimondo, io ho davvero paura, però non lasciarmi da sola, ok? Sai a che ora dovrebbe essere il tramonto?
Lui ha risposto semplicemente con ¨sono già le 06:30¨.
Non potendo far di più mi sono accovacciata sullo scafo con l'acqua intorno a me e ho cercato di proteggermi dalla pioggia fortissima che batteva sul mio viso. Ho chiuso gli occhi per un pò. È stato lì che ho pensato che saremmo potuti morire e nessuno sapeva che io fossi là. Ero preoccupata anche perché avevo lasciato le chiavi della mia auto a qualcuno nel windsurf club e non sapevo neppure chi fosse! Ora probabilmente se n'era andato. Che strano, perché mi sarei dovuta preoccupare tanto?
Mi è sembrato un lasso di tempo molto lungo prima di aver sentito poi qualcuno urlare. Raimondo era in piedi vicino a me. Mi sono alzata anche io. I ragazzi urlavano perché la barca della giuria era venuta a salvarci e dato che la visuale era così difficile avevamo solo bisogno di far rumore. Ho urlato pure io.
Mi è sembrato di amare quelle persone. Una di loro con un sorriso ci ha detto: "pensavate seriamente che avremmo potuto lasciarvi qui?" " Grazie! Stavo già immaginando la mia morte qui nella notte con gli squali." Ho risposto. "Non preoccuparti , non abbiamo gli squali qui e voi non sareste sopravvissuti fino alla notte! ". Fulvio Fiorelli era scherzoso ma rassicurante. Dopo aver chiesto a Raimondo se per lui andava bene ancorare la barca e tornare verso riva Fiorelli si è reso conto che il ragazzo esitava, alchè ha sbraitato: " Raimondo ajò! La vita è più importante di una barca!"
Così tutti insieme siamo tornati a terra.
Chissà, forse il mare non era così malvagio, forse si, ma per una novizia come me è stata un'esperienza davvero intensa.
Ho fatto una doccia calda una volta arrivata al club. Quando avevo finito Raimondo non c'era più.
Due ore più tardi, quando già ero a casa, mi ha richiamato dicendo che era appena andato a recuperare la barca in mezzo al mare.
Come dicevo, ci sono persone caute e persone spericolate. Raimondo appartiene alla seconda categoria.
Oggi le mie gambe sono piene di lividi e i miei muscoli alquanto doloranti. Potrei sembrar pazza ed irresponsabile, ma se davvero potessi essere onesta adesso ciò che vorrei è imparare tutto sulla vela, imparare quella difficile terminologia e soprattuto, al più presto, vivere ancora quella magia inconfondibile che senti quando sei solo con il vento e il mare.
---
---