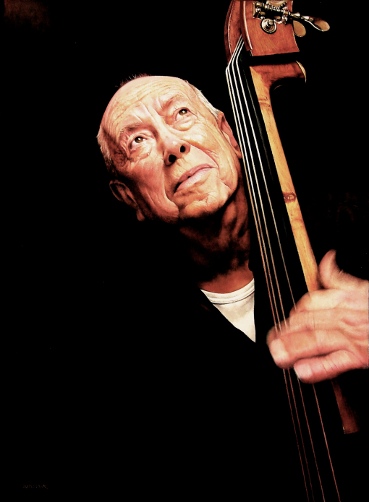 "Are you a photographer?" I asked when, during an exhibition, I met him first. He was keeping a camera on his neck. "I am a painter and also musician. This camera might potentially shoot some inspiration for my work"-He said.
We were a couple of friends, we walked around a bit and before he left he handed me his business card. I took a look into it and amazed I inferred: "Liar! You little photographer." The business card was showing a beautiful image of a man in profile, with the rays of the sun falling on his face, and doubtless that was for my flimsy eyes a poetic-stunning portrait photo.
I later understood who I was speaking with. We ended up having dinner in a friend's house and I had the pleasure to know more about this stupefying artist.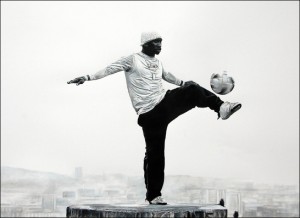 Andrew Kinsman is not a photographer, he does paint, but when he does it, the result is literally perfect.
Andrew's hands started to create through a brush at the age of 11. He drew inspiration from a collection of books his parents owned entitled, Great Artists; he was later indoctrinated by the romanticism of John Constable and William Turner and he sold his first paint at 12. Soon influenced by the symbolism of the Pre-Raphaelites and the Aesthetes of the 19th century and later by the Dutch Golden Age masters, he refined his techniques, enhanced the colors' choice and finally achieved the ambitious aim to create a "snap-shot of real life".
Yes, all Kinsman's artworks are unbelievably real.
I listened to his story with insurmountable curiosity and he surprised me even more.
At the age of 25 he abandoned painting for music. He educated himself growing his musical talent starting with the saxophone, eventually learning to play the clarinet, flute and piano as well. While he was working in a assembly line in a factory he used to practice with the saxophone during his time off animating and softening that grey dispassionate background. Once he left the job he broke into a new successful career.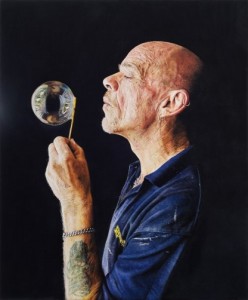 Today Andrew praises a list of very important music collaborations. Between them several famous British Pop/Rock bands, including The Levellers, The Specials, Gruff Rhys from Super Furry Animals and 'Girls Aloud' Nadine Coyle.
In 2010 he was invited to go on tour with English Rock band, Kasabian, lastly recording an album with them. During the same year he also recorded Noel Gallagher's new albums.
This irrepressible talent lately poured again into his first love. Nowadays Andrew divides his time exercising the passion for both music and painting, culminating in an unstoppable triumph.
He completed commissions for relevant personalities as the Sultan Al Thani of Qatar, famous actors as Rolf Saxon, celebrities as the chef Eric Lanlard and widely known galleries. He exhibited in May 2011 at the prestigious Royal Academy of Art in London and furthermore he has been awarded numerous prizes for his artwork and was one of thirty-five artists featured on the BBC2 Documentary, "Show Me the Monet".
Moreover, to mark the 150th anniversary of the founding of the Football Association Royal Mail commissioned Andrew to draw 11 unique stamps representing some of the british game's greatest heroes. "In footballing terms a 'hero' must be much more than an outstanding player. These carachters had something more. They had style." – the Royal Mail website writes. I add, the same kind of style the artist Kinsman has too.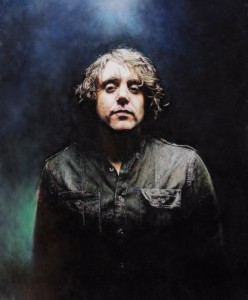 From the first day I met him I got to know Andrew better. Aside from being phenomenal transforming his self-discipline in impeccable results, he is also a gentle soul replete of spontaneous curiosity. He is currently exploring new setting trying to find new inspirations. He just spent three months in Paris where he could meet new people that are right now becoming the subjects for his new project. "I like the idea of a theme in my work and one that can be explored and developed. A simple idea that with a common thread that each sitter and their setting would add a new dimension to." –He wrote me from Paris.
And, how long does it take to create a masterpiece? "A painting used to take a couple of months from start to finish but recently I've been speeding up the process as well as simplifying my technique. Having less concentrated detail away from the focal point. I might for example bleed out the background giving the work a more 'unfinished' result. This process from start to finish may only take a week to ten days". 

But this was my most attentive question during our first meeting: "WHY? Why did you perfected your art at the point to make it so tremendously real?"
He answered: "It happened naturally."
Five long seconds of noisy silence.
Right when my eyes were staring at him considering him as a specially gifted person – far from my suddenly nasty normality – he humbly smiled: "…I ​​do not know. Maybe I've always been too afraid to express what my personal interpretation of reality is… that I preferred to reconstruct it to perfection".
Those words gave me back the breath. In front of the magnificence of his art I finally saw a man.
Even more than before this new pure humanity was for me an astonishing triumph.
If you would like to know more about Andrew Kinsman's art take a look to his website and remember, he is not a photographer. http://www.andrewkinsman.com
---
---